English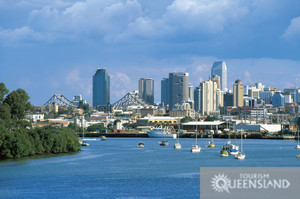 想嘗試有別一般的旅途體驗?來到昆士蘭,从北部的凱恩斯和大堡礁地區延伸到南部的黃金海岸地區,您可以緊貼大自然;品嘗美酒佳餚;瞭解土著文化,或是潛水追尋美麗珊瑚、瘋狂地購物,甚至只是懶洋洋的躺在海灘、悠閒享受特級水療等等。夏季溫暖,冬季濕潤,每年平均300天的日照時間令"陽光之州"的美譽名不虛傳。我們豐富的旅遊資源,可以讓您計畫超凡獨特之旅﹗

| | | |
| --- | --- | --- |
| [Fraser Island] 芬瑟島 兩天一夜 | 每週一 三 六出發 | 每人 $310 元起 |

*行程內容:


* Cooloola國家公園遊覽
* Noosa北海岸及野生袋鼠
* 欣賞Red Canyon的絕麗風景
* 在彩虹沙灘看見沙的72種顏色
* 1x早餐、1 x午餐, 1x晚餐



*詳細行程:


Day 1:
(Days 1 & 2 on Fraser Island and Cooloola N.P can be swapped around to suit tides, times & conditions)

•Depart Gold Coast 6:00am
•Brisbane 7:10 am
•Pick-up Noosa 9:15 am
•FREE Cooloola National Park Tour seeing Kangaroos, Red Canyon, Teewah Beach & Rainbow Beach

Arrive Fraser Island and enjoy -

•75 Mile Beach, Eurong Beach
•Yidney Dripping Rocks
•Eli Creek
•(Lunch may be provided at one of a number of locations, and can be swapped with Day-2 to suit conditions)
•Maheno Shipwreck
•Coloured Sands
•Indian Head with Dolphin, Turtles, Sharks and Whale sightings.*
•Eurong Resort - check in
•Restaurant dinner
•Guided Beach walk, under the stars
•Bed or Beach Bar PARTY.

Day 2:
Depart Resort by 8am, and enjoy –

•Pile Valley Walk
•Central Station
•Wanggoolba Creek
•Lake Birrabeen
•Scenic Lakes Drive
•75 Mile Beach
•Eurong Resort - (buy your own late lunch)
•Depart Island approx 2:00 - 3:00 pm.
•Arrive back in Sunshine Coast 4:30 - 5:00
•Arrive back in Brisbane 5:30 - 6:30
•Arrive back on Gold Coast 6:30 - 7:30

(The Itinerary and / or lunches on both days may be swapped to suit tidal and weather conditions)



*其它說明:




*AU$60國家公園費,上車時支付給司機

*國定假日另收AU$20加價





*條件限制:


* Time, Tides, and Weather Permitting
Sunset Safaris makes every effort to include ALL activities and destinations listed. However due to the extreme nature of Fraser Island and Rainbow Beach, and weather unpredictability in general, some activities are subject to Tide, Time, and Weather factors, and Sunset Safaris can not be held liable due to these factors.

CUSTOMER CANCELATIONS
Cancellations with less than 24 Hours notice incurs a 100% cancellation fee.
Cancellations with less than 72 hours, but not less than 24 hours, incurs a 50% cancellation fee.
Cancellations with less than 7 days notice, but not less than 72 hours notice incurs a $25% cancellation fee.
Cancellations not less than 7 Days notice will incur a 5% cancellation fee (administrative processing).